Did You
Know?


"Herbie"
Star of the 1969
movie
"The Love Bug"
resides at the
Swigart Museum
south of Huntingdon.

There is so much "Fun Stuff" to do in Huntingdon County, PA, Just check out the links below and try one this weekend:
| Hiking & Biking | Scuba Diving | Picnicking | Swimming |
| Water Parks & Miniature Golf | Shooting Clubs |
| Fishing & Hunting | Natural Wonders | Shopping |
| Boating | Attractions | Articles |
---
Hiking & Biking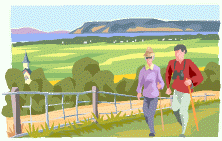 Scuba Diving
Fishing & Hunting - Striped bass at Raystown Lake, rainbow trout in Spruce Creek, Waterfowling, Whitetail deer and so much more in Huntingdon County.
Natural Wonders - There are many wonderful Natural Wonders to explore in the county, click here to start exploring them.
Shopping - tourist shops to grocery stores, click here
Boating - A great yearround activity at many county spots. Click here for locations, storage, repair and more.
Attractions - caving, miniature golf, water parks, hunting & fishing, hiking, biking and so much more to do in Huntingdon County, Pennsylvania, Click here
Articles - Written About Huntingdon County & Raystown Lake Pennsylvania